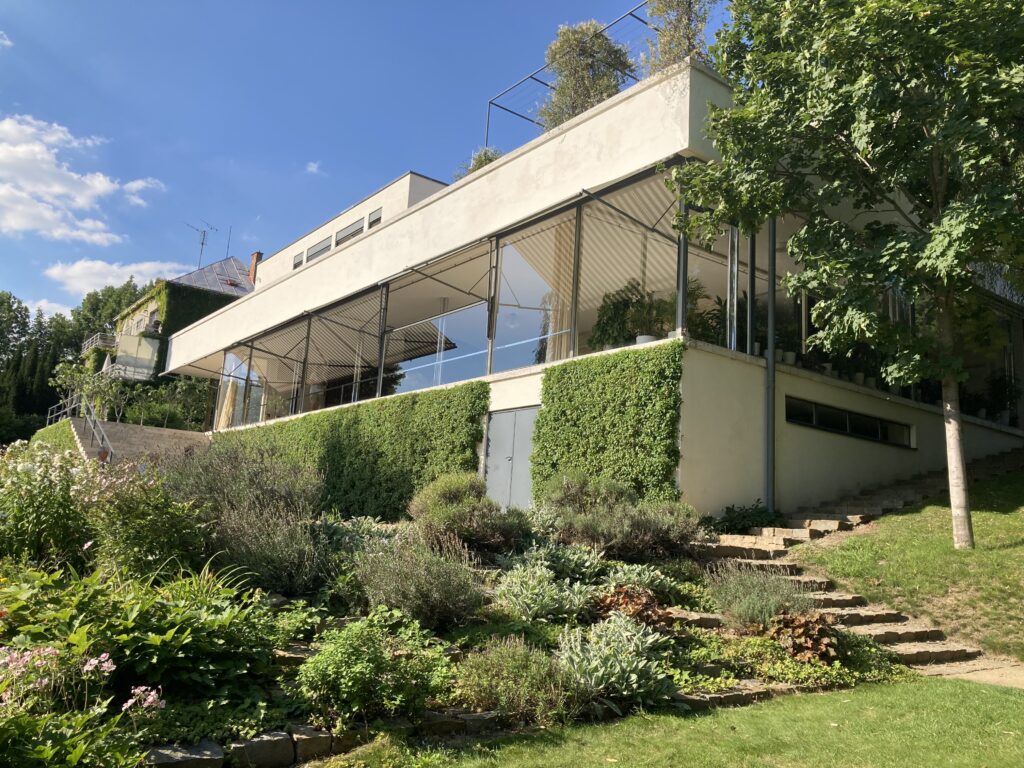 Villa Tugendhat in Brno, Czech Republic (1929-1930) is an example of a 'plan libre' as a modernist world heritage site. The building seems perfectly preserved and frozen in time. Patina and intermediate layers were erased as thoroughly as possible. And yet this complex place's unique genius loci or spirit moves with the times. Philosopher Hannah Arendt distinguished between two ways of describing a person. What someone is is determined by technical identity data. But if we want to know who someone is, it is best to ask about their stories. Villa Tugendhat is an excellent example of why the importance of story also applies to buildings in a point of connection between past, present and future.
Thus, this place is more than just a pared-down functionalist design by architect Mies van der Rohe. It is as much a brainchild of owners Fritz and especially Greta Tugendhat. On top of that, Lilly Reich is rightly becoming increasingly more recognised as a co-designer of the furniture, fittings and building. Her input translated, among other things, into a unique combination of materials and textures. Despite, or because of, the short completion time, this project is an example of co-design rather than sprouting directly from the genius of one architect as it was long considered.
Time evaluates how we look at heritage. New research and insights give different meanings concerning the designers and the site. The building was used as a home for only eight years. In 1938, the Jewish patrons fled their home forever. The family tried unsuccessfully several times to reclaim their property. Tugendhat became successively a Gestapo base, a design office and a rehabilitation centre for children. After 1963, the site was restored as a 'cultural monument' for the first time with relatively limited resources. Separation from Czechoslovakia was signed here in 1993 and not in a palace. A thorough renovation in 2010 sought to return to the original design. But a meticulously restored museum and space for weighty receptions is no home.
As designers and researchers, we study sites through plans, photographs, maps, sketches, etc., but you only get to know a place by 'being there'. While visiting the villa, it hit me that two elements sabotage the frozen idyll when they hint at the much more fascinating, hidden storylines. The beautiful sloping garden does reveal the age of the site, the client's relationships and interests, the importance of the sloping terrain to the basic design and the link to the city of Brno as a lifeline to the future. The greenery enters through the large window surfaces and the integrated nursery; as surfaces in correspondence with the natural stone walls. Underexposed textiles also play an essential role here. Large curtain surfaces arrange the plateaus flexibly and create a moving composition in the facades based on the rhythm of the site's users. Movable carpets also demarcate livable areas in the large, flowing spaces. Upholstered furniture provides colourful, textural and mobile accents.
When I link these intuitive thoughts to my previous doctoral research on the reuse of monasteries, in which landscape proved to be an significant stimulator for both the development and reuse of monastic heritage in which textile making was a perfect metaphor and tool, I want to continue to use and test this narrative perspective in research, pedagogy and design around adaptive reuse through landscape and textiles.